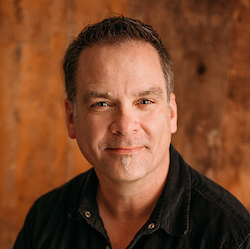 D.P. has worked on some of the biggest—and smallest—brands in the business including Coca-Cola®, The Athlete's Foot®, ClosetMaid® and Georgia-Pacific®. His résumé includes tenures at DDB Needham (Chicago), McCann Erickson (Atlanta) and creative shops in Denver, CO; Sarasota, FL; and Madison, WI. A writer by trade, he enjoys playing in the intersection between the visual and the verbal, and using his NonFiction Branding™ approach to move people—and product—for companies throughout the United States.
D.P. cut his branding teeth in the trenches at McCann Erickson creating a variety of work for Coca Cola and their brands. You will never see him drink a Pepsi product, ever. From there, he's worked on a wide array of brands from the prosaic (Georgia Pacific forest products) to the poetic (HelpHOPELive), and the no-nonsense B2B (Honeywell) to the wet & wild B2C (Wilderness Hotel & Golf Resort). His personal favorite: Southeastern Guide Dogs of Sarasota, Florida. Ask him to see the TV spots. If you love dogs, you'll love them.
D.P. developed his proprietary BRANDNature™ branding and messaging system by combining and refining the branding best practices he experienced at McCann, DDB Needham, and several other regional agencies. Then he added a little extra spice of his own to create a process that helps identify, purify and codify the true story of your personal or company brand to create advertising and marketing strategies that attract, engage, and most importantly, convert.
Co-author (with Spencer X. Smith) of ROTOMA—The ROI OF Social Media 'Top of Mind,' and host of the popular The ROTOMA Podcast and the NONFICTION BRAND podcasts, D.P. is a recognized expert in the fields of marketing, branding and social media, and presents a range of provocative and entertaining talks featuring his unique POV to companies and groups throughout the U.S.
"Know who you are. So you can be it." That two-sentence call to action succinctly sums up what the BRANDNature™ system, and D.P. the person, is all about.